Limited Edition (£75 + P&P))
This special edition of 400 individually numbered copies comprises of the hardback book along with the following bonus items (neither of which will be made available or sold individually) all housed inside a black, clothbound presentation slipcase: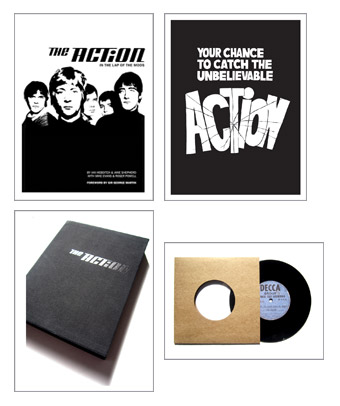 An incredibly rare and previously unreleased one-track 7 inch single of 'Why Do You Wanna Make Me Blue' with a brown card sleeve - an exact replica of a single-sided acetate / demo the Action recorded for an unsuccessful audion for Decca on 31 May 1965, prior to them signing with George Martin's A.I.R. company. This precious nugget represents the earliest known recording of The Action.
Where The Action Is

–

a 96 page paperback supplement printed in full colour on 115g recycled paper – is a comprehensive chronology of the Action featuring a daily diary of events, gigs played, appearances on TV and radio, record release / tour dates / chart positions and details of every recording session at Abbey Road, supplemented with press extracts, gig adverts and additional items of rare memorabilia and ephemera not included in the hardback book. Also features an extended Action family tree and full discography of the band.